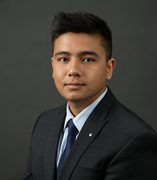 Indraneel Bhandari
Research Engineer
Energy Efficiency
About
Indraneel Bhandari is a Research Engineer with the Energy Resources Center at the University of Illinois at Chicago where he is a part of the Energy Efficiency team. Indraneel has several years' experience in building energy assessments through the Smart Energy Design Assistance Program (SEDAC), Public Housing Energy Savings Program (PHES), Income Eligible Multifamily Savings Program (IEMS), Savings Through Efficient Products (STEP), and the 2019 ComEd Baseline Potential Study. These programs would see the engineers conduct energy assessments and preparing energy savings report for the facility surveyed. Indraneel is currently supporting PV performance research on agro-photovoltaics with targeted focus on the solar-pollinator co-location in utility scale PV solar facilities. With involvements in various facets of the energy sector, Indraneel has an innate knowledge about energy usage habits and trends in the Midwest.
Prior to joining ERC, Indraneel worked as an electrical engineer in India focused on utility-scale turnkey PV solar plants. Here he was part of the site engineering team responsible for the construction, testing, commissioning and operation of the PV solar plant. He has experience with power evacuation bays and transmission systems.
Indraneel holds a Master of Energy Engineering from the University of Illinois at Chicago and a Bachelor of Technology in Electrical Engineering from India. His interest includes distributed PV solar, Electric and hybrid vehicles and renewable energy resources.