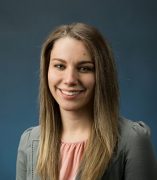 Klaudia Kuklinska
Research Specialist
Energy Efficiency
Contact
Office Phone:
Email:
About
Klaudia Kuklinska joined the Energy Resources Center as an intern in October 2016, and moved to role of Program Assistant in August 2018 after graduating with a degree in Biological Sciences from the University of Illinois at Chicago.
Klaudia works within the Rights-of-Way as Habitat Working Group by conducting research of mitigation strategies for pollinators affected by pesticides, mowing practices and habitat loss. She also investigates the best practices to aid in increasing pollinator lifespan. In addition, Klaudia has collaborated with industry experts to develop a scorecard that will be used to assess the suitability of potential pollinator habitat. The development of the scorecard included site visits with land managers and gathering feedback on priorities for best management practices.
Klaudia is also a Program Assistant to the ComEd LIKE program. The LIKE program provides free energy efficiency products to more than 35-thousand income-eligible households. Her primary responsibility is coordinating and collecting data from the Community Action Agencies. Furthermore, Klaudia works with interns to get acclimated with the energy efficiency programs.